News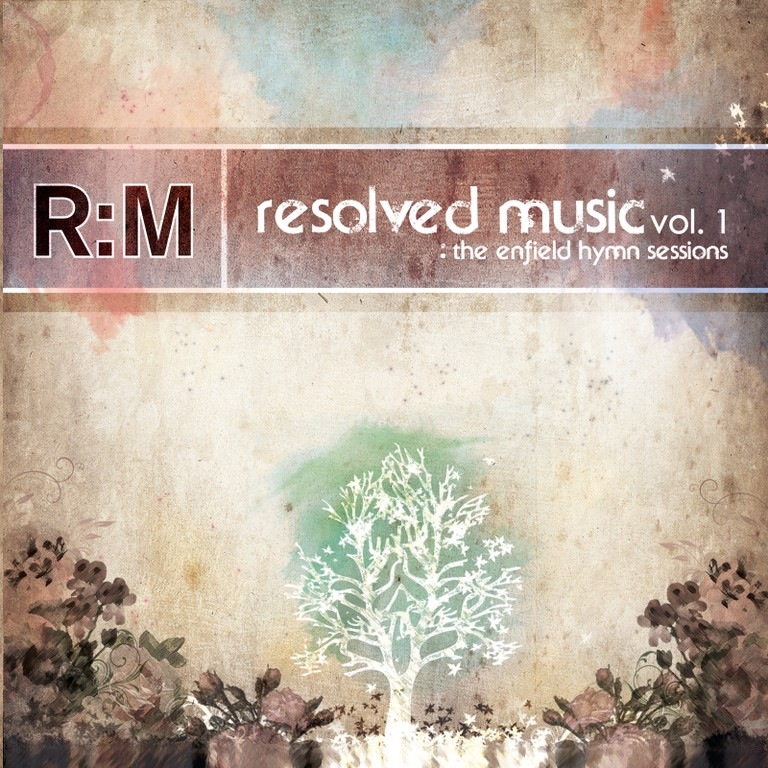 A few years ago I was fortunate to be able to produce a record for some young guys who had just gotten the gig as the junior high band at Hume Lake Christian Camps.
Chasing Cadence was their name, and the bass player and drummer were Ryan Fogelsong and David Zimmer. Turns out these guys would go on to be part of a band called Enfield, who's main gig would be playing all the worship sets at this big conference held every year in Palm Springs called Resolved.

David and Ryan were kind enough to talk John Martin (lead singer for Enfield and Director of Music and Media for the conference) into hiring me to produce their first record as a band. We had a great time recording "O For That Day."
Ryan came up to the Stickhouse and we hashed out some arrangements, finished writing a few tunes and put down some demos that we'd use to build the final sessions. Down to LA to cut basics at Clear Lake Audio, guitars with Tim Nienhuis in Fountain Valley and live strings as well. John and his talented wife Lisa came up to the Stickhouse to cut the vocals and we had our first project in the can.
Fast forward a couple years, and Enfield is ready for their third record (they hired their super talented close friend Scott Frankfort to produce their sophomore effort), and John and the team running the Resolved conference have decided that it's time to change the focus of the recording to be a resource for other worship teams and churches. I was hired to help them arrange and record a bunch of cool hymn arrangements that they've used at the conference in the past as well as some new ones they'll be introducing this year.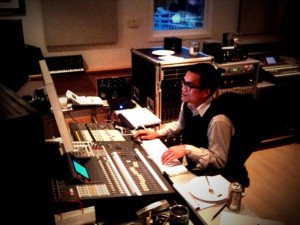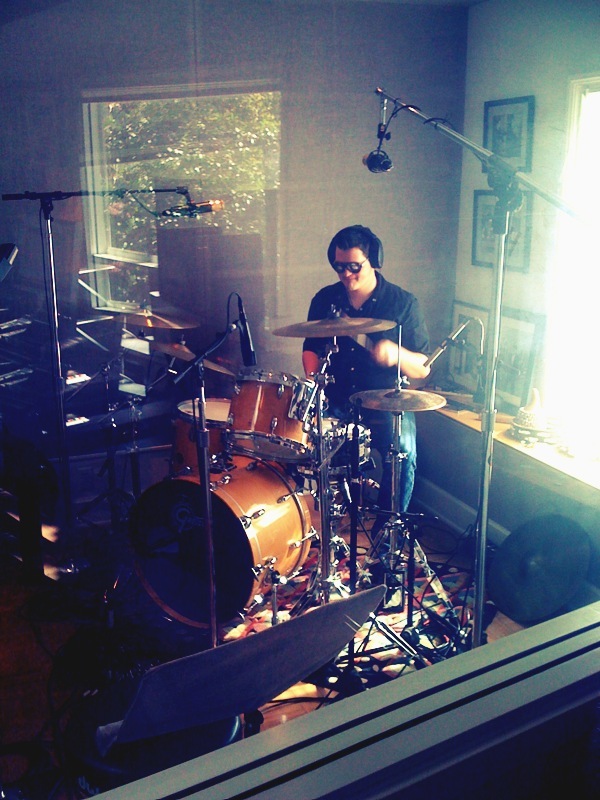 So, it was off to LA to cut basics, this time at Scott's killer studio. He's build a great sounding little live room at his house. John hired LA Drum Doctors to tune and dial the kit as well as bring in a great snare drum and cymbals. Add a rack of Neve pres and a great engineer and you have great drum sounds. Dairus Fong, the engineer for the project is another friend of the band's, and has an extensive resume as well as developing an exciting iPhone app. It sure was fun to only have to be the producer, and not having to worry about the mic setups or gain staging or pushing the buttons like I usually do.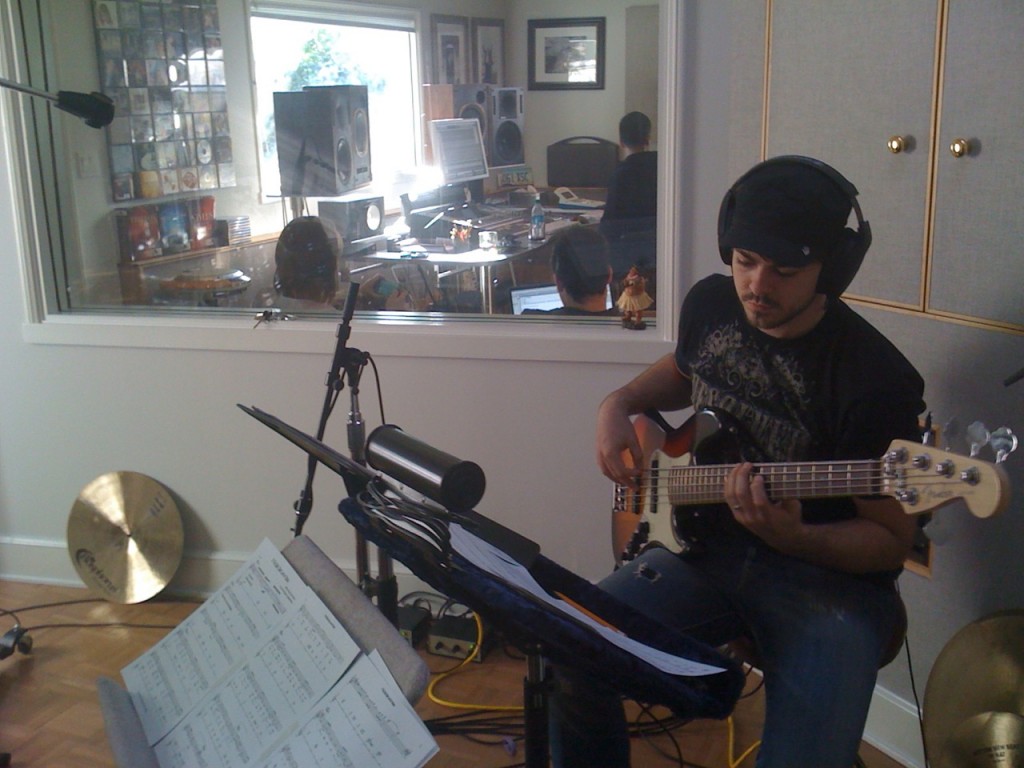 Then add a little bass and acoustic guitar, and call basics week done.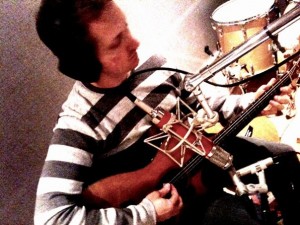 Next up was another week down in LA to record string quartet and electric guitar. So, in the mean time that meant that I needed to write a bunch of string charts. 12 songs, 12 string charts.
Writing for strings is a lot of fun when you know that some ridiculously good players are going to take the notes I put on the page and make them sound "right." Samples can be cool, but the real thing is always going to be the real thing because of the humans playing those wooden boxes. (I heard them in the break room talking about playing on big time movie and tv scores.) So we recorded strings for 12 tunes in 9 hours at Scott's place. I sat in the booth with the players to wave my arms around a little and help them with interpretation as needed. Fun and exhausting!
We cut electric guitar at a studio in North Hollywood that shall remain nameless, as it wasn't such the great place. But, the guitar playing was phenomenal. Nick Brown played through a Fractal Audio Axe-FX Ultra box that was feeding a couple of speakers in the live room, which we miced with 57s. Great sounds! It's very impressive what that box can model… anything from amps you know and love to those same amps with dying tubes or broken knobs. And with any bit of gear, the guy playing the notes has a lot more to do with the great sound than the computer chips, wires and speaker cones.
Next I took all the sessions back up to the Stickhouse to start in on the mix process. We hadn't cut the vocals yet, but time was going to be tight so I needed to get started. Of course, with great players and great sounds like Darius got mixing is pretty easy. It's mostly about creating a nice balance instead of trying to correct recording issues or editing mediocre performances. Then John and Lisa came up and knocked out the vocals in a couple days, and then it was time to wrap things up. Another week or two of mixing, and then I grabbed the hard drive and headed back to LA for a couple days going through everything with John, Ryan and Darius at Scott's place, and then printing the final masters. We ran the mixes through Scott's excellent output chain, and printed the finals at 192K. Every little bit helps right?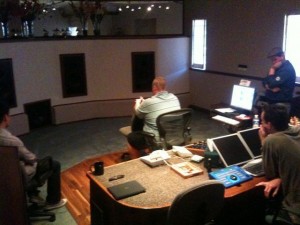 The final step is mastering, and we drove the mixes up to Ojai, CA to master with Robert Hadley at the famous Mastering Lab. The "real deal" mastering is some sort of Dark Side of the Force power, and Robert is one of the best. The mixes were pretty good before, but after his magic…
The album hasn't made it to iTunes yet, but in the mean time here's one cut from the record.
Needless to say, I love working with this band. They really understand the process of making a record, and appreciate what it is that I can bring to a project. There is no hint of "too many cooks in the kitchen" with this group. They know and understand their roles, and each serves the greater good willingly and to the best of their ability. Creativity flows, but doesn't bog down the process of getting it done on time.
I'm really excited to be going to the Resolved Conference in a couple weeks. Hanging with the gang, hearing them lead a big group of enthusiastic worshippers and soaking up some solid preaching will be a nice cap to a great project.